Hot tubs | wooden tubs | plastic hot tubs | Fiberglass hot tubs | sauna
Outdoor hot tubs, sauna, wood fired hot tub
Hot tub | wooden tubs | plastic hot tubs | Fiberglass hot tubs
Do not miss an opportunity to relax in the hot tub in the open air! Our hot tubs, up-to-date steam baths and saunas are an unforgettable attraction both for the lovers of the nature and those who prefer romance. They can be perfect for entertainment of the guests, a group of friends during various events.
Hot tubs, sauna, wood fired hot tub will perfectly relax the tired body both in warm summer evenings and in winter! During cold season you can enjoy a sufficiently exotic water recreational activity: a steaming water in the hot tub or a hot steam of a steam bath, winter frost and snow-covered branches of trees. What could be better than that?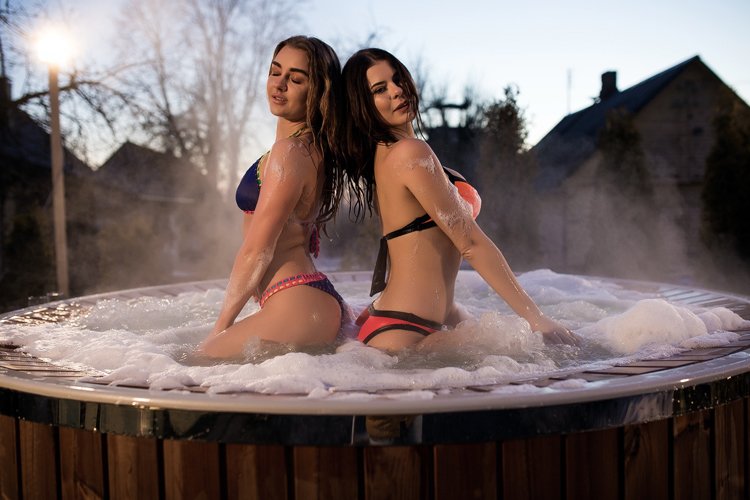 Furthermore, we can offer an opportunity to enhance an effect of hydro (water) massage on the certain body zones or to distribute it evenly: jets are installed into the walls of a hot tub at different heights or all nozzles are installed in a group to ensure a plentiful back massage or other body parts. Several systems of hydro-massage can be installed depending on your needs, the size of a hot tub and the number of its users.
A hot tub – ofuro bath is a small tub (a wooden bath) for one or two persons. After taking a sauna, a hot steam bath or a wood fired hot tub you can cool down in refreshing cold water. Just as the large tubs, ofuro tub are made of wood, polypropylene (plastic). They can also be heated with help of heaters fired by solid fuel (wood fired stoves) or electric heaters.
Manufacture of outdoor hot tubs, saunas, stoves
Our company UAB "Sveikata Tau" started manufacturing hot tubs, saunas, stoves and wood fired tubs in 2000. Every order receives our exclusive attention; wood is carefully selected for manufacture of hot tubs and saunas. We use spruce, larch or thermowood for manufacture of outdoor hot tubs.
The reasons why you should choose our company
2 Years Warranty
Proffessional Customer Service
VISA | MASTERCARD | PayPal
Pay by Card
Our hot tubswood fired baths we install, our heaters designed for warming-up of hot tubs, saunas easily compete throughout Europe. We actively present our products in Lithuania, Latvia, France, Germany, Denmark, Great Britain, Italy, Austria and other countries. We are constantly striving for excellence and are open to co-operation proposals actively pursuing to sell our products: hot tubs, steam baths, heaters (stoves) for hot tubs and other equipment for active leisure, improvement of human health – outdoor training devices. .
We manufacture hot tubs of various shapes according to the individual needs of the client. Taking into account market needs and renewable technologies we can offer our clients hot tubs made of polypropylene (plastic) and fabrics of fiberglass. Both of these materials are very durable and require little maintenance. Polypropylene is characterized by high elasticity. Therefore, even during winter time, when water freezes over, hot tubs made of plastic remain intact as they do not crack. Operating temperature of polypropylene can vary from -40 to +110 degrees Celsius.
Recently hot tubs made of fiberglass gain great popularity. The human anatomy is taken into account during the manufacture of such hot tubs, a comfortable resting area is created. Shape of outdoor hot tubs made of fiberglass is selected according to anatomical curvature of the human spine. Therefore, the hot tubs are very comfortable to use and provide comfort, a sense of satisfaction and maximum relaxation. Fiberglass hot tubs not only look modern but also assume a very luxurious appearance. .
Hot tubs made of fiberglass with overflow system
Sophisticated hot tubs of this type are special in that they are always full of water. However, you will never have to deal with the problem of spilled water while using them. The overflow system installed in the hot tub collects excess water, filters it and returns the clean water back to the hot tub.
Fiberglass was selected for manufacture of hot tubs because of its durability and comfort. This hot tub made of fabric of glass fibres is perfect choice for those who appreciate naturalness because all of its finish and trim elements are made of spruce, larch or thermowood. Furthermore, you can choose your favourite colour from a broad RAL palette of colours.
Hot tubs with overflow system are usually installed in series with massage systems and filtration system. For this reason, the water contained in the hot tubs is always clean. Fiberglass hot tub with overflow system is designed for enjoying a warm open-air bath and for plunge into the pleasures of air bubbles massage system or water massage. (Hydro massage system)
Hot tub, sauna, stoves and technologies
Taking care to meet the client needs and to keep pace with the current trends we supply hot tubs with additional accessories: hydro-massage, air massage systems, LED lights and special water filtration system (sand filter).
Hydro-massage (intense water-massage) works by pumping water out of the hot tub and pushing it under high pressure back into the tub through the jets. The quality of hydro-massage is determined by the number of water pumps and their output, water flow regulators, nozzles selected, their quality and quantity ratio. Pumps can pump up to 1.5 m3w of water per minute. Depending on your requirements, the pump flows can be distributed between benches and easy-chairs using four regulators.
Air bubble massage enriches the water in the hot tub with a stream of small air bubbles. Many bubbles that come to the surface act as a soft tissue massage positively affecting activity of lymphatic system and blood pressure. This massage system is usually installed in the benches, seats of a hot tub or a bath. A pump is fitted under the stairs of A, B, C or D type during installation of such hot tub or is inserted in a firm decorative case that is fixed to the hot tub.
The air massage system consists of:
6 air-blowing nozzles;

air pump;

control button;

connecting hoses.
LED lights can be installed in the water. They enlighten not only water but also sauna, a steam bath or a hot tub. Modern baths are no longer confined to the dull light in the corner of the ceiling. This method of illumination offering a sense of comfort and modernity in every steam bath is gaining great popularity. A LED lighting has changing RGB colours. Colours of LED lights create an extremely calming, romantic atmosphere.
Sauna is a sensual type of bath. You can feel a pleasant warmth, can inhale hot air, hear the absolute calm of your sauna while taking it. Illumination of sauna with LED lights will add another sensory pleasure. Create a special mood, play with shadows by choosing a combined illumination of different colours.
Sand filtration system work as follows: the water from hot tub is taken and is returned back to the lower part of a hot tub. The water is cleared while flowing through the quartz sand. The sand that is present in the filter is sort of a sponge that holds out a variety of fine particles and dirt – deposits and other dirt "get stuck" in the sand and a clean, filtered water is returned to the hot tub. Thanks to such filters hot tubs require considerably less maintenance because water needs to be changed much less frequently than usually.
Sand filtration systems provide clear and clean water for your enjoyable bathing, fight with deposits and dirt which cannot be overcome by any chemical cleaning. It is environmentally friendly and easy to use device recommended for every hot tub owner.
High quality, up-to-date hot tubs, sauna, steam baths will guarantee pleasure and refreshment after hard work or intense week. Let yourself enjoy the romance created with help of LED lights, relaxing massages of air bubbles and water flows and bathing in a very clean, filtered water.